ORIENTATION
Welcome to the Diploma in Management (Dip.Man). This qualification introduces the student to the theory of business management (Generic Curriculum) applicable to the global business environment. The Diploma in Management (Dip.Man) forms part of the EDUVISA Bachelor and Master's in Business Administration (MBA) Degree Programme and is made up of prescribed modules which each include Study Notes, Academic Resources and the relevant Formative Module Assessment).
The Diploma in Management (Dip.Man) follows a generic curriculum that includes components of both the UniQual (IQF) as well as the Ofqual (RQF) qualification frameworks. This ensures that the Student covers curriculum components taught at universities and business schools globally while meeting the UK-Ofqual prescribed curricula. The utilisation of both the UniQual and Ofqual Qualification Frameworks thus also ensures that assessment methodology, intensity and study outcomes meet globally accepted requirements associated with prominent accredited academic institutions and guarantees that the learner/student. after completion of his/her studies, will be adequately prepared for both the academic as well as the competitive global management environment.
The Diploma in Management (Dip.Man) is delivered via the EDUVISA Online Learner Management System (EVUS) and enables the learner/student in both a rural as well as and urban environment to study while still fulfilling their personal and employment responsibilities.
Students who have completed the EDUVISA Diploma in Management (Dip.Man) will be able to progress to the EDUVISA Higher Diploma in Management (HDip.Man) (IQF-Level 5) (Bachelor 2nd Year) as part of the EDUVISA Masters in Business Administration (MBA-Integrated) Degree Programme.
Students who wish to pursue the full Bachelor (BBA/BCom) Degree Curriculum or alternatively the Integrated Master's (MBA) Degree Curriculum are, as a cost- and time-saving measure, only required to complete the Summative Assessment Component (RQF) once they have completed all the prescribed modules that form part of the Formative Assessment Component relevant to the BBA/BCom and/or MBA Degree Curriculum (Please feel free to consult with a Student Advisor to assist you during the registration process).
EDUVISA BBA/MBA ACCELERATED PATHWAY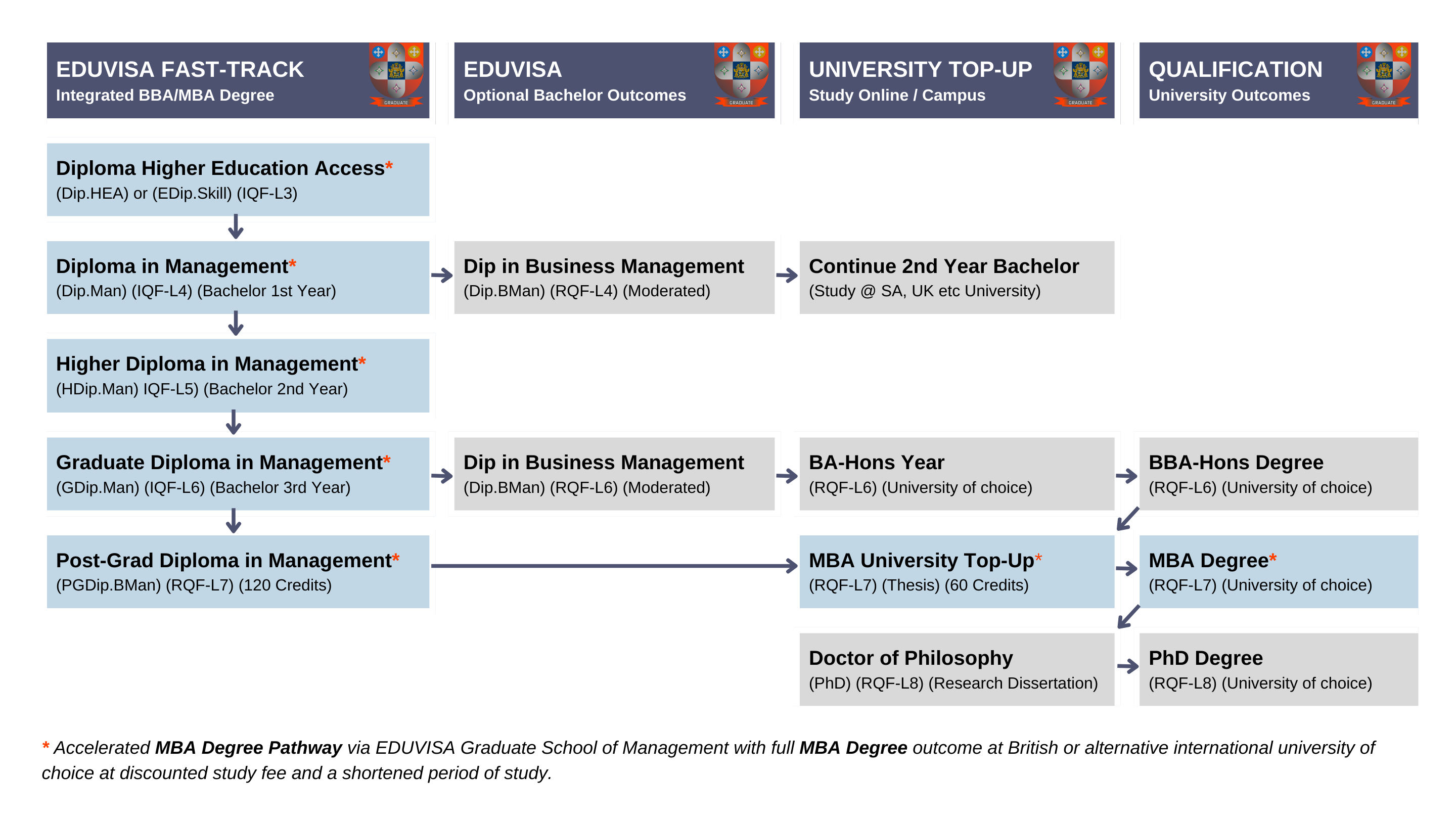 REGISTRATION PROCESS
Applicants register via the EDUVISA Programme Catalogue or the EDUVISA Online Application Portal after which the applicant will be redirected to the PayPal (Debit/Credit Card) or PayFast (EFT, Debit/Credit Card) secure payment gateway or alternatively the EDUVISA Bank Details

 

to complete a direct EFT transaction (Expect verification of payment and programme activation within two to three working days).

Student commences with academic activities within 24-hours of payment verification.