ORIENTATION
Welcome to the Diploma in Higher Education Access (Dip.HEA) / Extended Diploma in Business Skills (Edip.Skill) (GAP Year Curriculum)
The Diploma in Higher Education Access (Dip.HEA) (IQF-L3) enables students who have not been able to obtain placement at a residential university with the opportunity to access the EDUVISA UK-University Pathway towards completion of an Uniqual/Ofqual management qualification at Diploma, Higher Diploma, Graduate Diploma, BBA-Hons, Post-Graduate Diploma, and an MBA Degree (Accredited UK or alternative international universities) level. The Dip.HEA incorporates both the FDip.Skill and EDip.Skill that may be completed by students attending the EDUVISA endorsed GAP-Year Programmes in Southern Africa.
The Diploma in Higher Education Access (Dip.HEA) (IQF-L3) introduces the learner/student to the online study methodology environment while also providing a foundational theoretical perspective that will allow the learner/student to seamless ease into online Business Management studies when joining the EDUVISA University Pathway.
Learners/students who have successfully completed the Dip.HEA (EDip.Skill) (GAP) may register immediately for the Diploma in Management (Dip.Man) (Bachelor 1st Year) as part of the UK-Ofqual/Uniqual regulated university pathway towards a Bachelor (BBA-Hons) or Masters (MBA) Degree. Students are required to complete the Diploma in Higher Education Access (Dip.HEA) within a period of 12 months following the date of registration.  
The Diploma in Higher education Access (Dip.HEA) is delivered via the EDUVISA Online Learner Management System (EVUS). It enables the learner/student in both a rural and an urban environment to study while still fulfilling their personal and employment responsibilities.
EDUVISA BBA/MBA ACCELERATED PATHWAY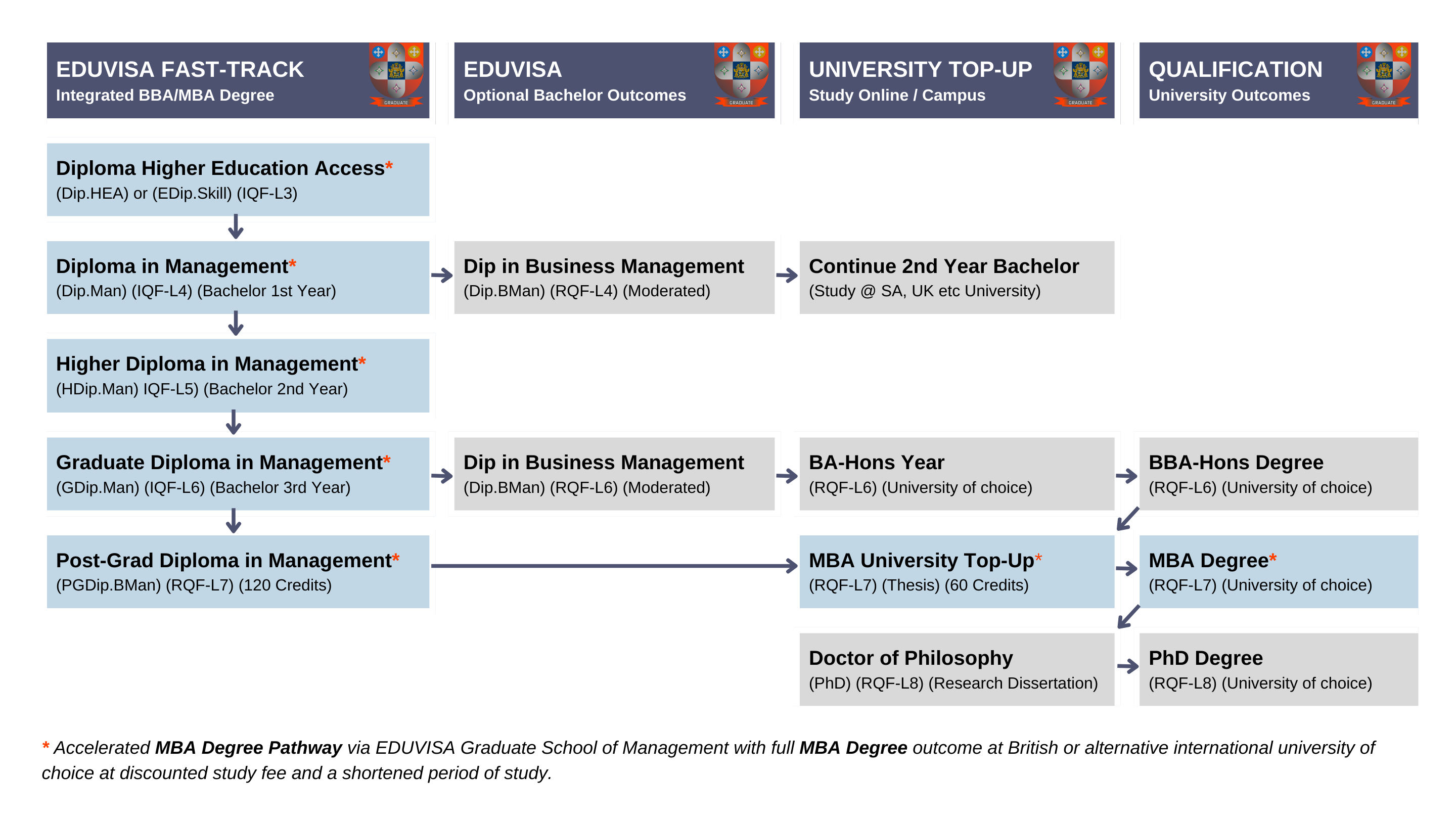 REGISTRATION PROCESS
Applicants register via the EDUVISA Programme Catalogue or the EDUVISA Online Application Portal. The applicant will be redirected to the PayPal (Debit/Credit Card) or PayFast (EFT, Debit/Credit Card) secure payment gateway. 

See 

Bank Details

 

to complete a private EFT transaction (Expect verification of payment and programme activation within two to three working days).

Student commences with academic activities within 24-hours of payment verification.